Susan H. Witt, LCSW
Susan Witt, LCSW has a Master of Social Work degree from Virginia Commonwealth University and has been licensed as a clinical social worker since 1988. Susan has worked in a variety of hospital and agency settings prior to joining Comprehensive Counseling Services in 1989. Susan has owned this practice for many years and is President & CEO. Susan often has Sullivan and Duncan serve as her co-therapists. They provide a calming prescence and enjoy treats and belly rubs!! Sullivan and Duncan have both earned their AKC Canine Good Citizen Certifications.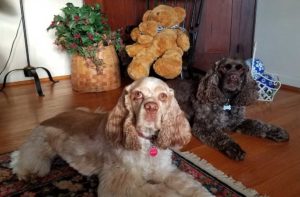 Susan has clinical expertise in providing diagnostic and treatment services to children, adolescents, adults, and families presenting with a wide variety of difficulties. Susan has extensive training and experience in treating children and adults with mood and anxiety disorders, Attention Deficit Hyperactivity Disorder, trauma issues stemming from childhood sexual or physical abuse/neglect, separation/ divorce and co-parenting difficulties, women's issues, and chronic pain management issues. Susan has been trained in the Collaborative Divorce Process since 2008. Susan's approach to therapy is to combine insight-oriented and cognitive behavioral therapy techniques with practical problem-solving strategies.
Susan has been involved in numerous professional and volunteer activities thru the years. These activities have included serving on the state and local boards, including a term of state President, of the Virginia Society for Clinical Social Work. She has mentored youth thru involvement with Girl Scouting and youth ministry programs. Susan is current Roanoke Chapter Chair of Virginia Society for Clinical Social Work/Roanoke Chapter, and has membership in Collaborative Divorce Professionals of Roanoke and Collaborative Professionals of VA.
Susan provides clinical supervision towards the LCSW.
Offering specialized services and help to Separated and Divorcing Couples and their Families:
**Pre-Separation Consultation with parents to help them develop a plan for how to tell their children about the separation, management of emotions involved, and management of actual separation.
** Co-Parenting Coach
Susan works with newly separated or divorced parents who are wanting to co-parent more effectively. Susan works to seek agreement between parents on goals, an agenda of concrete tasks necessary to achieve those goals, and then coach parents thru a structured negotiation process to achieve mutually acceptable solutions to raising their children together. Susan can also meet directly with children, when necessary, to obtain the "kid – based" info needed to tailor co-parent agreements to unique child needs. Consultation can also include collaboration with attorneys for incorporation of plans into legal documents.
** Collaborative Communications Coach on the collaborative divorce team (comprised of collaboratively trained attorneys, mental health professionals, and financial specialists). This process assists separating couples to reach resolution and agreements in a respectful manner without going to court. The purpose of the communications coach is to help each person manage intense emotions that arise during a divorce and to effectively communicate with each other. Another role of the communications coach is to assist parents in developing a comprehensive parenting plan.
** Collaborative Child Specialist on the collaborative divorce team. Susan meets directly with the parents to gather information about each child's reactions to the ending of the marriage. Susan then meets directly with each child to gather info about their ability to cope with ending of parents' marriage and to understand the child's concerns. These concerns are then shared with the parents, and info given to communications coach ( if a separate professional serving in that role) for inclusion in development of comprehensive parenting plan.